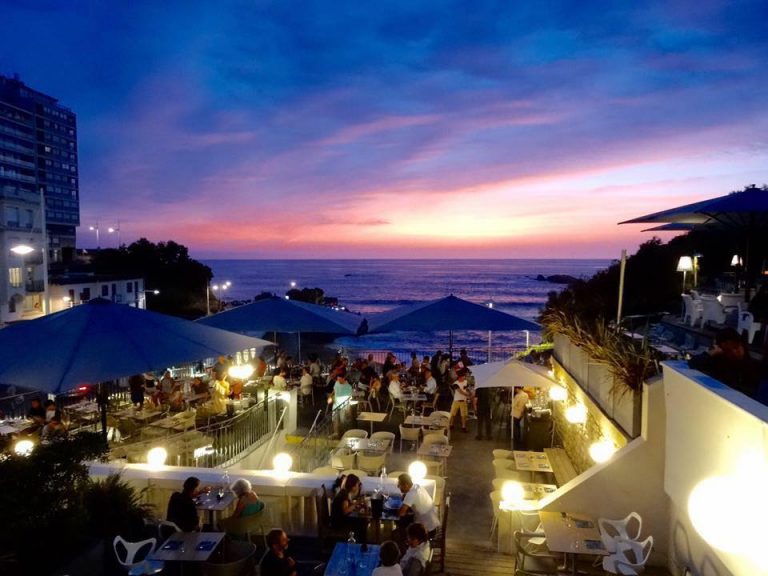 On

Monday May 29th, 2017

In Biarritz
Tags
No Comments
Biarritz restaurants with a view of the sea
Here at Biarritz by Locals we thought we would put together a little list from South to North of some of the best sit down restaurants in Biarritz with a first class view of the Ocean. From dining with the locals to dining like royalty, there will be something for everyone and for all occasions.
Le Surfing
Le Surfing is probably the closest to the surf beach you can get in Biarritz whilst sitting down to a delicious meal. With huge windows that open to the ocean, order your breakfast, lunch or dinner whilst watching the water sparkle, the waves roll and the surfers glide…well at least some of them. Le Surfing is more of a stylish restaurant so no sandy feet or bare chests but in keeping with the Biarritz theme, this restaurant has a beautiful relaxed and vibrant atmosphere for all to enjoy. Reservations are a must during summer but once you sit down you will definitely not feel like moving or taking your eyes off the view.
Le Bar de la Côte
Whether it's for a morning coffee, a long lunch in the sunshine, a snack mid beach session or delicious cocktails to watch the sun go down, Bar de la Cote has a comfy lounge chair ready and waiting. Positioned on the famous surf beach 'Cote des Basques', this sun-filled restaurant has that warm welcoming feel that you could quite easily make it your local. Whatever time of the day you decide to take on this restaurant, you will have the perfect vantage point to watch the surfers hit the waves, the avid beach goers soak up the sunshine or the closing of the day with the sun setting over the ocean.
Arena Biarritz
Get your aperol spritz here! At the very front and centre of the Port Vieux beach is this breezy and vibrant restaurant. With a huge sun filled terrace and an air-conditioned indoor area, this restaurant has so much to offer. The position itself pulls in the people however for how busy this place can get the service is friendly and efficient. Put on a big sun hat and some sunnies and order that second aperol spritz just because you can.
Les Baigneuses
With a relaxed and colorful atmosphere however slightly more fancy than some of the other restaurants with a view of the ocean. Whether you are after an indulgent brunch, a long lunch in the sun, a romantic dinner for two or some of the best cocktails in town to watch the sunset, look no further than Les Baigneuses. Perfectly situated near the Port Vieux, with young trendy owners that sincerely want you to enjoy yourself while you are there. Book a table upstairs or inside, or walk on by and perch yourself on one of the cute sundrenched seats out the front.
La Casa Juan Pedro
Definitely no fine dining here but simple, reasonably priced, delicious seafood by the ocean. Situated perfectly at the end of the 'Port des Pecheurs', once a lively fishing port where the locals would leave in the early hours of the morning in search of their catch of the day. A lively atmosphere that is best enjoyed in the sunshine with a glass of wine whilst watching the sun set. Perfect for all types of diners and easy with kids as there is plenty to explore around the tiny port.

This photo of La Casa de Juan Pedro is courtesy of TripAdvisor
Chez Albert
If you are looking for a seafood feast, look no further than Chez Albert. Order the seafood platter and expect local oysters, lobster, crab, scampi and many more seafood delicacies or otherwise take your pick from the list of locally caught perfectly cooked fish. This restaurant is known for its wonderful waiters, all armed with smiles and an abundance of knowledge of what's on the menu so don't be alarmed if you have any questions as they will be more than happy to help. Great restaurant for big groups whether you are wanting inside or outside. You are eating seafood and drinking wine in a small fishing port on the coast of France… order another dozen oysters and sit back and enjoy.
Crampotte 30
Too cute for words. This little gem, slightly hidden from the hustle and bustle, is a fun and easy tapas restaurant. Locals gather here for a beer in the sun and a plate of delicious traditional Basque tapas. Situated in the 'Port des Pecheurs' looking out onto the maze of stone walls built to protect the picturesque fishing boats awaiting their fishermen. Once you find the port look out for the bright red tables and chairs. This little place has your best interests at heart, in the summer sun they will provide you with straw hats and once the sun starts to set and the temperature drops they will be ready and waiting with a cosy blanket so you can settle in and order another glass of local wine.
Hippocampe
Clearly visible at the end of the famous Grande Plage, this beachside terrace with white tablecloth dining is definitely photo worthy in anyone's books. Whilst much less posh than the Hotel du Palais' others restaurant, it still has that royal feel and a 5 stars' price list. The ocean views are spectacular but at the same time being a very popular restaurant and hotel there is always lots going on so people watching as you feast by the pool is also a key feature to this royal restaurant. Known for its extravagant summer lunch buffet you will dine like French royalty and be surrounded by the rich and quite often famous.

This photo is offered by TripAdvisor
Villa Eugénie
Definitely one of the most royal experiences with a view of the ocean you will have in Biarritz. Situated in the most historic and grand hotel in Biarritz, the Hotel du Palais, built in the shape of an E in the 19th century by Nepoloan III for his beloved Eugenie. With spectacular views of the Basque Country coast line, the towering lighthouse and the famous Grande Plage, this restaurant is fine dining at its finest. Expect white tablecloths, multiple sets of cutlery and impeccably dressed waiters with a strong focus on showcasing local and regional cuisines.